Accounts & Finance
Ratio Analysis
Purpose of Ratio Analysis

Ratio Analysis is one of the important steps in analysing financial statements. Ratio analysis is useful in analysing financial health of the company. It analyses how the company is doing from perspective of liquidity, efficiency, profitability and solvency. Ratio analysis also helps in identifying weakness of a company and then creating action plan to work on that weakness. From the perspective of investors ratio analysis helps in analysing the performance of company from fundamental perspective and the returns company can generate of investors in long-term. Sometimes ratio analysis helps in comparing the performance of the company with its peers and then analysing it from the perspective of in industry benchmarks to judge the comparative performance of the firm to be analysed.
Two ratios that measure profitability

Net profit Margin = Net profit/Net Sales
Return on equity = Net Profit/Total Equity
Return on Asset = Net profit / Total asset
Gross Profit Margin = Gross Profit / Net Sales
Operating Profit Margin = Operating Profit / Net Sales
Two ratios that measure liquidity

Current Ratio = Current Asset/Current Liabilities
Quick Ratio = (Current Asset-Inventories)/Current liabilities
Two Ratios that measures debt management

Leverage = Debt/Equity
Debt service coverage ratio = DSCR = (Annual Net Operating Income) / debt services = (Annual Net Income + Amortization/Depreciation + Interest Expense + other non-cash and discretionary items (such as non-contractual management bonuses)) / (Principal Repayment + Interest payments + Lease payments
Two ratios that measures Asset management

Asset turn over = Sales/Average total Asset
Inventory turnover in days = 360*Average inventory/Sales
Two ratios which measures market value
Book to market = Book Value of the firm/ Market Value of the firm
Price to earnings = Price per share/Earnings per share
Comparative analysis and trend analysis are two important aspects of ratio analysis. Trend analysis helps financial analyst in judging the performance of the company over the period of time. Trend analysis tells analyst whether the performance of the company is improving or declining over the period of time and what is the likely hood of better financial performance in future.
Comparative analysis on the other helps in comparing the performance of the company with its peers. It generally measures the performance of the company on various parameters like profitability, liquidity, solvency, and efficiency and then compares it with various industry benchmarks to judge whether a firm is performing below or above the industry average.
Time Value of Money
Time value of money is one of the most important concept used in finance, time value of money implies that value of money does not remain constant with time, value of money varies with time. Money worth $ 100 will not remain 100 because of factors such as inflation.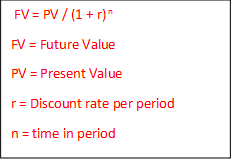 Annuity
Annuity is set of annual cash flows which one receives or pays at the end of the year. Formula for present value of annuity.


Annuity due is similar to annuity Accept the payments in the stream of cash flows are made at the beginning of the year rather than at the end of the year.

Formula for Annuity Due
Growing annuity is a stream of cash flows which in which ash flows are not fixed but they grow on annual basis. Formula to calculate the value of growing annuity is
Present Value of growing Annuity due



Perpetuity
If you receive stream of cash flows for infinite period the annuity becomes perpetuity.
Formula for Present Value of Perpetuity

Formula for growing Perpetuity

More Subjects
Accounts & Finance
Business
Economics
Engineering
Management
Mathematics
Science
Statistics