Management
Historical Evolution of Organizational Behavior
Industrial psychology, the scientific management moment and the human relation moment are the key contributors to the organizational behavior development.

For the good of employee recruitment, industrial psychology focuses on the development of the test.
Bringing in work various wage along with some inceptive plans and rationalizing the work by the scientific management movement is the way to improve productivity.
The factors that contributed to the rise of the human relations moment are The Great Depression, The Rise of trade unionism, and Hawthorne Experiment.
The discipline of organizational behavior makes sure to coincide the internal organizational environment with the external social environment. That's why the organizational behavior is still emerging as a discipline producing more and more new concepts emerging in the external social environment.
Scientific management: The term refers to the theory of management that looks into the work flow with the main objective of improving economic efficiency especially labor productivity.
Trade Union: Association of workers in an organized way working in a profession, a group of trades, or formed to protect their rights and interest.
Multinational Company: It's a large corporation integrated into one country that produces or sells good or service in other various countries.
Ethical management: Management practices that obey market ethics along with fulfilling the ethical responsibilities based on social norms.
Corporate Social Responsibility: It's a form of corporate self-regulation integrated into a business model. CRS functions as a built-in self-regulating mechanism whereby a business monitor ensures its active compliance as per the law, ethical standards and international norms.
Work Motivational Theories
The work motivational theories can be broadly classified into two classes:
Content theories are concerned with identifying the needs that people have and how needs are prioritized. These theories provide incentives that drive people to attain fulfillment.
Example. - The Maslow Hierarchy Theory.
These are concerned with the cognitive antecedents that go into motivation and with the way they are related to each other.
Example.- Equity theory and attribution theory.
Group Dynamics
Group dynamics is defined as a process where several individuals come together and have an interaction to accomplish a particular task .It is usually between a social groups. Group dynamics can be categorized in two parts:
Inter group dynamics:

The conversation happening within a social group is called inter group dynamics.

Intra group dynamics:

The conversation which occurs between two different social groups is termed as Intra group dynamics.
Team: A team is a group of individual who work together towards a common goal.
Stages of group development

There are five stages of group development that groups may go through:
Forming:

In the forming stage several members of the groups join each other or come together as a group for the first time. They basically get to know each other and assign several positions in the team like team leader and manger. In this phase the team members discuss about the problem statement.

Storming:

This phase is also called discussion phase. All the team members put their points and argue on how a task has to be done.

Norming:

This is a stage when people completely get to know each other about their strength and weakness and is directed towards a particular task. They resolve their differences and develop a stronger commitment towards their goal.

Performing:

The team reaches this stage when hard work leads and team accomplishes their motive or task. At this stage people who leaves won't disrupt the performance.

Adjourning:

At this point of time the task is completed and the team is disbanded.

Eg. Project team exist for a small period of time and once project is completed team is disbanded

.
Leadership
A successful leader may not be effective. Ability to run a group efficiently is called leadership. There are various qualities that a leader should possess in order to be influential and lead a group. These are called as leadership qualities.
There are three different leadership styles which have positive as well as negative impact:
Autocratic: It is a characteristic of an absolute ruler or absolute rule. It means that a person has absolute sovereignty. He is the only person who has the authority to make decisions.

Participative: Leader who is capable of participating and requires input from the employees on all company decision he makes.

Free rein: In this kind of leadership all the team members are free to take their decisions and leader don't impose any constraints on the team members
Management and Organizational Behavior
Management:
Management is defined as the act of managing something. This process is undertaken by one or more than one persons to coordinate the activities and achieve the results.
The management process:
The six steps in the management process are given below.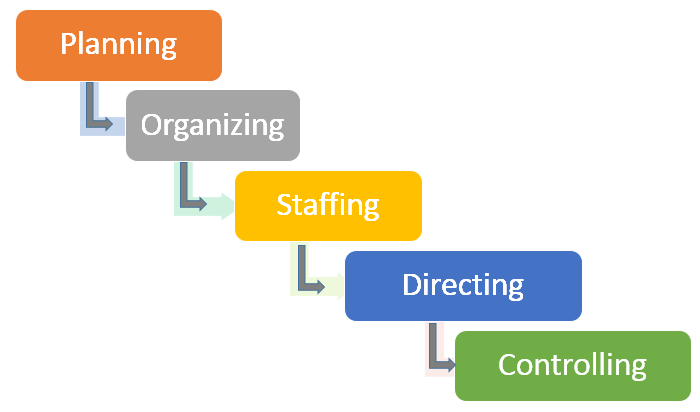 Planning: Planning consists of the activities which are involved in choosing the courses of action to achieve organizational objectives. Planning can be of two types short term planning and long term planning.

Organizing: Organizing involves the grouping of jobs into framework for coordination and direction.

Staffing: This process requires the job like analysis, recruitment, selection, placement, training, execute development, administration, leadership, teamwork, motivation, disciplinary procedure etc.

Directing: The important function of management at any level is directing the people by motivating, commanding, and leading them.

Controlling: Controlling also involves checking, verifying and comparing of actual performance with the plans. The purpose of control is to ensure the effective operation of an organization.
Organizational behavior:
Organizational behavior investigates the impact that individuals, groups, and structure have on behavior within organization. The aim of this study is to keep running an organization effectively.
Elements of organizational behavior:

Organizational Culture
Collective behavior of people those who are a part of organization or an industry. It includes the organizational values, norms, working language, beliefs and habits.
There are four types of organizational culture:
Bureaucratic

Clan

Entrepreneurial

Market
Organizational Power and Policies
Power: Power is the ability to make thing happen in the way you want.
Sources of power in organization:

Consequences of power:

Organizational Politics: It involves those activities by an organization to acquire, develop, and use power and resources to obtain preferred outcome.
Factors influence political behavior:
Organizational governance and its implications:
The pattern of authority, influence and acceptable managerial behavior is established at the top of the organization.

It is significantly determined by the effective control of key resources by members.

Behavior must produce the greatest good for the greatest number of people.

Policies must respect the rights of all the parties.
More Subjects
Accounts & Finance
Business
Economics
Engineering
Management
Mathematics
Science
Statistics