Economics
Keynes Theory of Income and Employment
The theory has reference in the short run since the stock of capital, technique of production efficiency of labor, size of population etc are assumed to remain constant in the short run. So the theory explained that, Income is the function of employment.

Both Income and Employment go together as:-

The level of employment is determined by aggregate demand and aggregate supply.

Level of Income is also determined by AD & AS conditions
Aggregate Demand means how much expenditure, people and government has undertaken on consumption, investment and net exports demand AD has four constituents:-

Consumption Demand

Investment Demand

Government Demand

Net Exports Demand

AD = C + I + G + X
CD depends on two factors

Propensity to Consume (PTC) - constant.

Level of National Income - Depends on Income.

Propensity to consume is assumed to be constant in the short run because propensity to consume is the willingness and capacity to consume which do not change in the short run.

Hence consumption demand depends upon the level of national income.



Consumption demand of an economy it slopes upward from left to right showing that as income increases consumption demand also increases but not in the same proportion gaps between consumption curve and income curve represents either shortage or savings in community. This gap to increase as income increases because the savings will increase.



Keynes psychological law of consumption
The fundamental psychological law of consumption is defined that as income increases consumption do not increase in the same proportion because there is an increase in savings.

When income increases consumption expenditure goes up by small amount most of the human wants are satisfied side by side as the utility on consumption decreased.

In a free capitalistic economy when there is no government intervention people are free to spend less on consumption, they can save more for their future contingencies.

The increased income will be divided in some proportion between consumption and saving is both C and S goes together.

The laws homes working under normal condition but if economy face abnormal conditions like war, emergencies, demonetization, hyperinflation law will not operate, so the consumer will spend entire income on consumption.
Determinations of consumption function or propensity to consume
If the wage rate rises the workers will have high propensity to consume, resulting in to upward shift in consumption function.
If a heavy tax policy is imposed, it adversely affect the consumption function.
Change in the future price expectations
If it is expected that prices are likely to fall in future, people will buy limited quantity of essentials today which will shift the consumption function downwards.
The consumption function is also influenced by the People's attitude towards savings, if they value future consumption more than the present consumption, they will save more and consumption function shift downwards.
Demand for investment depends upon two factors
The marginal efficiency of Capital (MEC)

The rate of Interest (ROI)
Out of these two, ROI is comparatively stable if do not change in the short run. Hence, the level of investment mainly depends upon the marginal efficiency of investment/MEC.
The marginal efficiency of capital
It means the expected rate of profit which the business community hopes to get with the investment in capital assets. MEC itself depend upon –

Replacement cost of capital goods.

Partition of business community/ economy.

I = f(MEC)

Where I = Investment

f = function

(c) Government demand for goods and service:-

(d) Net Export demand:-

Additional output of capital is known as MEC in short.



AS in an economy depends upon the productive capacity of an economy. Productive capacity itself depends upon the aggregate demand. The greater the aggregate supply, the greater will be the extent to which productive capacity will be utilized and hence greater will be the aggregate supply.

Aggregate supply in an economy is equal to National income or NNP (Net National Product). The constituents of National Income are rent, wages and salary, interest, profit etc.



The equilibrium level of Income and Employment
National income is determined through the intersection of AD and AS curve i.e, at point which Corresponds to income level OZ where AD=AS.

If AD>AS i.e., AD curve lies above AS, to the left of E, which implies that if more can be produced by an economy and sold in the market, it will increase the national income and bring it to point E.

If AD<AS i.e., AD curve lies below AS, to the right of E, it shows that the total output is left and sold in an economy. This will result in accumulation of stock within the economy, which induce the producing sector to lower down the production. Hence national income will fall to OZ.



The equilibrium level of income and employment
Saving and Investment Approach
Savings:-
Savings represents withdrawal of money from income stream and it represents leakage in an economy.

Investment:-

Investment means in flow of money into the income or production stream. It represents injection of money into the production process.

Savings and Investments are equal at equilibrium level of income and employment.

The equilibrium level of income and Employment will be determined where two conditions are fulfilled:

AD = AS

I = s

Taking l as common, investment demand in an economy should be equal to supply of savings in an economy.
The propensity to consume and propensity to save
It shows the willingness and capacity of economy to spend on consumption. It is defined as relationship between income and consumption which can be measured in two ways:-
Average propensity to consume E(Apl

)
It is the ratio between consumption and income.

APC = e/y or Consumption / Income

Marginal propensity to consume: -

It is the ratio at which consumption changes due to change in income.

Mpl = c/y

Propensity to save:-

It shows the willingness and ability of an economy to save. It is the relationship between Savings and income and can be expressed in two ways.
The average propensity to save (Aps)
Ratio of Savings and income i.e, how much economy capable to save out of the national income.

Marginal propensity to save (Mps): -


It is the rate at which saving changes due to the change in income.




Since both Savings and consumption flow from the same source i.e, income




The curve of saving and investment approach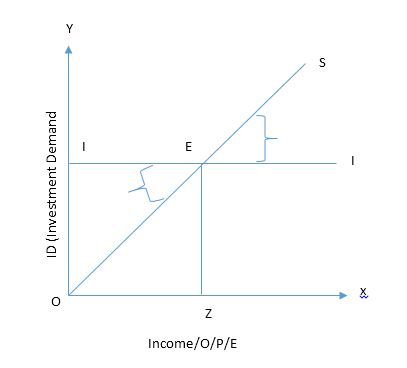 (1) If at a particular time, the level of income in an economy is 40000 crores and consumption is 32000 crores. Calculate APC and APS.

(2) Suppose income increases from 40000 crores to 50000 crores and as the result consumption increases from 32000 crores to 39000 crores.
Solution :-

(3) Calculate MPC, if MPS is 0.3

Solution :- MPC + MPS = 1

MPC + 0.3 = 1

MPC = 1 – 0.3

MPC = 0.7

(4) Calculate MPS, if MPC is 0.5

Solution :- MPC + MPS = 1

0.5 + MPS = 1

MPS = 1 – 0.5

MPS = 0.5

(5) Calculate APC, if APS is 0.4

Solution :- APC + APS = 1

APC + 0.4 = 1

APC = 1 – 0.4

APC = 0.6

APC + APS = 1
Equilibrium level of income is determined by intersection of AD and AS.

Shift in equilibrium may take place due to change in AD or AS.

In short run, AS is assume to be fixed hence, the important determinant of equilibrium will be AD.
The equilibrium level AD & AS decides the level of income and employment in an economy. In case of any change in AD or AS, resultant change will be seen in the equilibrium. But out of these two AS remains constant in the short run and do not change. AD will shift rightward or leftward due to the market instabilities.



Multiplier shows the relationship between change investment and resulting change in income multiplier coefficient major change in income due to change in investment. Multiplier is related to MPC and MPS also.



As a result of increase in investment by 60 crores, national income Rises by 240 crores. Find out MPC.

Solution :-

K = ∆Y/∆I =240/60 = 4

K = 1/MPS = 4 = 1/MPS

MPS = 0.25

MPC + MPS = 1

MPC = 1 – 0.25

= 0.75
Increase in investment 2000 crores, MPS equal to 0.75. Calculate

Solution :-

K = 1/MPS

K = 1/0.75 = 1.33

K = ∆Y/∆I

= 1.33/100 = ∆Y/2000


= ∆Y = 26600

An economy consumes 75% of income. Change in investment 11000. Calculate

Increase in Income

Increase in Consumption

Increase in Savings

Solution :-

∆I = 11000

MPC = ∆C/∆Y = (75%)/100

MPC = 0.75

MPS = 0.25

MPC + MPS = 1

0.75 + MPS = 1

MPS = 0.25

MPC = ∆C/∆Y

0.75 = ∆C/44000

∆C = 33000

K = 1/MPS

K = 1/0.25 = 4

K = 4

K = ∆Y/∆I

Y = ∆Y/11000

∆Y = 44000

MPS = ∆S/∆Y
More Subjects
Accounts & Finance
Business
Economics
Engineering
Management
Mathematics
Science
Statistics