Economics
Subject Matter of Macroeconomics
Macroeconomics determines the level of economic activities, total income output etc.
(ii) It studies general price level and employment level.
(iii) National Income.
(iv) Causes of fluctuations in national output and employment.
(v) Determination of general price level.
(vi) Economic policies- fiscal policy and monetary policy.
(vii) Foreign trade and balance of trade.
(viii) Causes of fluctuation in BOP (Balance of Payment).
(ix) Exchange Rate.
What is National Income?
National Income is the money value for all the final goods and services produced by the economy during one year.

Macroeconomic Variables (Aggregate Variables). Macroeconomic is the study of behavior of economy as a whole macroeconomic variable or aggregate variables are interrelated and interdependent. These variables are categorized into two categories:-
(a) Goods market Macro-variable
(i) Gross Domestic Product (GDP) - It is the country's total income and output of goods and services. Judges economies performance.
(ii) Aggregate consumption expenditure.
(iii) Aggregate investment expenditure.
(iv) Aggregate government expenditure.
(v) Exports and Imports.
(vi) Employment of land, labour capital, raw material and goods and services.

These are all flow variables and keep on changing regularly. They are interrelated and interdependent.
(b) Money Market Macro-variable
(i) Aggregate Money Supply- It is fixed and is a stock variable.
(ii) Aggregate Money Demand- It fluctuates and is a flow variable.
(iii) Aggregate savings.
(iv) Transaction demand for money.
(v) Speculative demand for money.
(vi) Interest rate - It is determined by aggregate money supply and money demand.
(vii) Exchange Rate.

(viii) Balance of Payment.
Micro and Macro Paradox
It suggests that there are certain true in case of individual economic units but are not true in case of economic aggregates and averages.
Example:-
(1) Cash Holding:-
If an individual is holding cash then it does not affect the economy as a whole. But if group of persons on a large scale holds cash then it's going to affect the economy. So it signifies that it is not necessary that a change at micro level will definitely bring a change at micro level also.
(2) Increase in Saving:-
If an individual person saves his/her income and lower down consumption then economy as a whole is not giving to suffer but if many households together save money then for sure economy will be badly affected as there will be less demand which implies less output, less employment and less income.
(3) Increase in GDP does not mean that it is good at Micro level:-
There are two things GDP and per capital income. Is GDP increases, then it's not compulsory that per capita income will also increase because total population is also considered. More over the distribution of GDP among people is also not equal table or even. So it doesn't means that always a change at macro level will also bring a change at micro level.
Stock and flow
Stock is a quantity measured at the specific point of time whereas flow is the quantity measured per unit of time.
1. Amount of water in a bucket is a stock where is amount of water going into the bucket from the tap is a flow variable.
2. Balance sheet of the firm will be a stock where is P&L account is a flow variable.
3. An individual wealth is a stock while income or expenditure is a flow.
4. No. of unemployed people in our economy is a stock whereas number of people losing and getting the job is a flow.
Limitations of Macroeconomics
Macroeconomics study only the aggregate and do not consider the individual level decisions.
(1) Whatever is good at Macroeconomics level may not prove useful at micro level.
(2) It assumes micro variables as constant, which is always changing.
(3) Macroeconomics ignores the structural changes in the economy and hence the conclusions drawn on the basis of macroeconomics may be misleading.
(4) Macroeconomics aggregates not a reality.
Static Macro, Comparative Static, and Dynamic Analysis
Static Macro Economic Analysis:-

Static means state of rest or state of being motionless. A static economy means an economy with normal activities without any change in the size of economic activities National output or stock price of employment. Static economy doesn't mean and economy without activity or no one is doing anything at all. When an economy is studied under the static condition is called static analysis. Static micro model assumes that there is no need a change in the size of economy, total output Technology, price, employment, population, nature of business, taste and preference etc.
Comparative Static Analysis

It is a comparative study of economic conditions of an economy at to static equilibrium position at two different points of Time. E.g. - Comparison of national income of 2008 to 2016.
It means that economy is in motion when macroeconomic phenomena is analyzed on the changing or dynamic conditions, it is called and analysis. A big noticeable change is saying and economic factors and forces keep changing.
Income, National Income and Expenditure
Income or National Income

National Income is an economy depends on the economy's output or production which in turn depends on the factors of production and their employment. National income is distributed among different factors of production in the form of rent, wages and salaries internal payment for RAW material, power, profit etc. National income is the money value of all the final goods and services produced by a country during one year.
It means the expenditure on all goods and services in an economy. Aggregate expenditure in an economy is equal to the aggregate demand.

Aggregate Demand = Aggregate Expenditure

It consists of:-

(i) Aggregate Consumption Expenditure

(ii) Aggregate Investment Expenditure

(iii) Government Expenditure

(iv) Export and Import Expenditure
Determination of Supply/Determination of Total production
Aggregate supply or Production or GDP in an economy depends on two factors
1. Factors of Production
These are the used in the production of goods and services the most important factors are labour and capital. Labour includes mental and physical efforts by workers and is represented by 'L', whereas capital is a set of tools used by workers and is represented by 'K'. It is assumed that both factors are fully utilized.
2. Production Function
Aggregate supply or production depends on factors of production. Output changes with change in labour and capital.
AS=f(L, K)
As the capital and Labor increases, output production will also increase in the same proportion. Production function as you say given state of technology for converting input into output with the change in technology there will be changed in production function. If both labour and capital are doubled output will also double itself.


AS=f(K, L)
or
Y=f(K, L)
2Y=f(zK,zL)

Determination of Demand for Goods and Services
In case of a closed economy, where there is no trade with other countries, the value of net exports will be zero and the aggregate demand will include consumption demand, investment even and government demand for goods and services. whereas in an Open Economy with trade links and with other countries aggregate demand will include consumption demand, investment demand, government demand and net export demand.
AD = C+I+G (Closed Economy)
AD = C+I+G+x (Open Economy)
where
C = Consumption Demand
I = Investment Demand
G = Government Demand

x = Net Exports (Export – Import)
Consumption Demand

Household demand goods and services at all different points of time the income which the household earns its subjects to be taxed by government. Disposable income is the difference between income and Taxes. Household divide the disposable income between consumption and savings.
Y – t = YD
where Y = Income, t = tax, YD = Disposable Income
C = f (YD)
C is the consumption demand.
Higher the households disposable income higher will be its consumption demand. The scope of consumption function is the marginal profensity to consume (change in income).
Consumption level never be zero.
Investment Demand

It depends on the rate of interest and expected profitability out of the investment. The rate of interest is the cost of procuring funds. The rate of interest, investment demand will be less and at lower rate of interest, investment demand will be more.
I = f(r)
Investment is depend on (r).
Nominal rate of interest:-
It is the rate of interest that borrow or paid to the lending institution while they borrowed money.
Real Rate of interest:-
It is the nominal rate of interest adjusted for inflation.
Government Demand

For goods and services is consist of government purchases for government offices, for Government employees, public in general defense and security etc.
Net exports demand:- (X-M)
Equilibrium
Equilibrium is the level where aggregate demand in an economy equates aggregate supply in an economy.
AD = AS
Where AS = K+L
AD = C+I+G+K
Why people demand money
People demand money for three purposes
1. Transaction Motive
People like to hold money to meet out there routine expenses or for the transaction motive. Demand for money for transaction motive is determined largely by the level of income. Higher the income greater will be the demand.
2. Precautionary Motive
It consists of demand of money to fulfill unexpected requirements or to meet contingent expenses also depends upon the level of income.
3. Speculative Motive
Here, the money is demanded to have some monetary gains. People Hold money, so that they can invest the same for purchasing bonds and equities.

Money is determined by the rate of interest. At higher rate of interest (in the banks) there will be less speculative demand.
Circular flow of income or Relationship of Production Consumption and capital formation
There are three basic economic activities like production, consumption and capital formation.

1. Production
Means transformation of certain inputs into some output and creation of utility, production give rise to Income at micro level, aggregate production will be equal to aggregate income (National Income).
2. Consumption
Using the produced goods and services for the satisfaction of human wants is known as consumption.
3. Capital formation
It is the surplus of production over consumption used for further production.
Interrelationship



Production, consumption and capital formation are three interrelated activities. Once the production takes place, an equal amount of income is generated, portion of this income is used in consumption and rest is savings, which in turn becomes investment. As a result, investment helps to raise the investment potential resulting in more production, higher consumption and larger investment.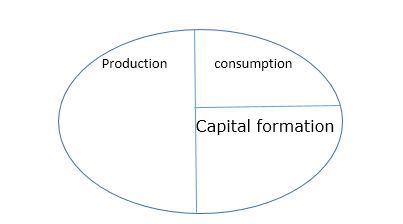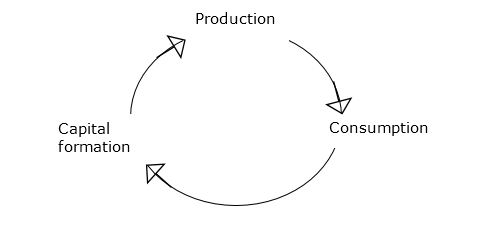 Different sectors in an economy
Household sector
Biggest sector in an economy.
Owner of all the factor of production like, labour, capital and entrepreneur.
Their total income is a return to these factors of production in form of rent, wages, salary and profit etc.
Household are the consumer of all consumer goods and services.
The Income (DI) of household is used either for consumption or for savings.
Savings will flow to the producing sector in the form of investment.
Producing or business sector
Producing Sector is not the owner of resources.
They hire or buy the factors like land, labour, capital raw material etc. from the household sector.
Producing sector use these factor of production in the production process and sell goods and services back to the households.
Producing Sector do not save. Hence there is no corporate savings.
Government sector
It play a very important role in a mixed economy like India especially in the development of the country.
Government transfer household income to the government sector in the form of taxes, fines, duties etc.
Government also undertakes government expenditure which helps this revenue flow back to household.
Taxation is the withdrawal of money income because it reduces personal disposable income, which further reduces consumption.
Government expenditure is an injection of money into the income stream and it adds to aggregate demand.
Government helps in the form of transfer payment eg- old age pension, unemployment benefits etc.
Inflow and Outflow of Capital
Exports makes the goods and services flow out of the country and money in the form of foreign exchange flows into the country. Export represents injection into the economy. Import makes inflows of goods and services from and flow of money in the form of domestic currency out of the country. Import represents withdrawal from the circular flow another inflow and outflow maybe because of the exchange of the manpower with other countries.
Two sector Model


Three sector Model


Four sector Model


More Subjects
Accounts & Finance
Business
Economics
Engineering
Management
Mathematics
Science
Statistics